Saturn's Tribute to Skip LeFauve
SaturnFans.com • January 31, 2003 In Memory of Richard G. "Skip" LeFauve
November 30, 1934 - January 26, 2003

Richard G. "Skip" LeFauve, former president of Saturn Corporation, passed away in his sleep Saturday from complications following open-heart surgery in Florida.

"We are deeply saddened by the tragic loss of this great leader," stated Annette Clayton, current Saturn president. "Skip commanded the respect of all who had the pleasure to meet and work with him. He will be missed."

This sentiment was reflected by all who knew him – friends, colleagues, and team members alike. To him, there was no differentiation. We were all on the same team. We were all his colleagues. We were all his friends.

"This really hit me hard," shared Guy Briggs, former VP of manufacturing under LeFauve. "I worked for Skip for a long time, longer than I've worked for anyone else in my career. A lot of people felt that Skip's approach was the soft side approach, but Skip LeFauve's style really belied the fact that he was a tough, hang-in-there businessperson. He always had the interests of the people he was associated with in mind and, also, at the same time, was a hard driver to succeed. I thought the world of him and I will miss him."

LeFauve retired from General Motors Jan. 1, 1999 after over 40 years of service. His last position within GM, which he started in April 1997, was as the senior vice president for Global Leadership Development and Global Human Resources Processes, and president of the GM University.

John F. Smith, Jr. said of LeFauve at his retirement, "During his 41 years of service, Skip distinguished himself as a leader and innovator. Among his many achievements, his most notable, perhaps, is his leadership from 1986 to 1997 of Saturn, which is hailed as one of the most innovative and successful new brands in the history of the automotive industry."

In addition to being president of Saturn, LeFauve served as GM vice president and group executive in charge of the North American Operations (NAO) Small Car Group, and a member of the NAO Strategy Board starting in Oct. 1994. He was appointed Chairman of Saturn Corporation on August 8, 1995.

He began his General Motors career in 1956 as an engineer with Packard Electric Division, Warren, Ohio.

In reaction to Skip's passing, International UAW representative Harold Cox said, "On behalf of our union, I want to express our sincere condolences to Skip's immediate family and to the large extended family of friends who are deeply saddened by his passing. It was a pleasure to work with Skip and to share in his wisdom and knowledge. The building of American-made quality products in a union environment directly involving employees was a mission that he fulfilled with integrity and passion. Those who knew him will always remember that he was a caring person whose goal was to make the work environment a better place for both rep and non-rep alike."

UAW MAC Advisor Mike Herron echoed Cox's comments, "I am very sorry to hear of Skip's passing. Skip was a visionary leader who knew that in order to be successful; a real and true partnership between labor and management must be created. Skip was one of the founding fathers of Saturn and his tremendous leadership capability created a company that proved small cars could be made in America with labor and management partnering to create a high quality, high value small car. Skip was a friend of the workingmen and women of this local and we are extremely sorry for his passing. On behalf of Local 1853, we extend our deepest sympathy and we are praying for Skip's family in this time of grief."

A native of Orchard Park, New York, LeFauve was born November 30, 1934. He served the United States as an aviator in the U.S. Navy for six years. He was a big fan of Harley Davidson motorcycles and a big fan of Saturn.

LeFauve is survived by his wife, Mary, and five children. The family is currently making funeral arrangements. Funeral service information was not available at time of print.

"During his 41 years of service, Skip distinguished himself as a leader and innovator. Among his many achievements, his most notable, perhaps, is his leadership from 1986 to 1997 of Saturn, which is hailed as one of the most innovative and successful new brands in the history of the automotive industry." – John F. Smith, Jr.

"Skip will always be remembered for his extraordinary passion and leadership. He inspired people by believing in them. He was able to articulate what other people felt. His courage and conviction has left and indelible mark on this great company and the entire industry. We will always remember him." – Brian McClelland, VP People Systems

"I will always remember Skip for his absolutely sincere commitment to this membership as we forged ahead to create and then maintain the participatory work environment that we call 'The Partnership.' I never knew an instance when Skip wasn't insistent that the UAW be involved in the creation of Saturn. To Skip, the UAW wasn't solely an institution that represents workers - the UAW was individuals who worked hard and collectively to best provide for themselves and their families by making an effort to create success. He will be missed by his entire extended family of 6,000 at Local 1853." – Rick Martinez, UAW Local 1853 President

"This is a real loss. We're sorry to have to say good-bye to Skip. We will always remember what he did for Saturn. Now, it's up to us to keep it going." – Dennis Dougherty, VP Manufacturing

"My heart and deepest sympathy goes out to Skip's wife, Mary, and his entire family. The loss of Skip is like the loss of a family member. Although life goes on, we need to stop and reflect how much he meant to us. He was a friend, a great leader, and someone who demonstrated the Saturn Values in everything he did. We love him and will miss him." – Michael Bennett, former UAW MAC Advisor under Skip LeFauve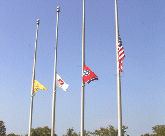 Source: Saturn


Back to 2003 Company
Testing Placement of Random Google Ads