In a Band? Virtually Play at SaturnFest 2009 in Front of Several Thousand Visitors Next Month
Tags:

SaturnFans.com is currently looking for musicians who want to showcase their talents at the upcoming SaturnFest virtual homecoming celebration. SaturnFest '09 will take place online October 26th through the 30th on the computer-generated grassy fields of the Saturnalia Fairgrounds. Among the events previously announced will be a nighttime concert, which is where you come in. Performances by Saturn owners are preferred, but anyone is welcome to participate. Please contact me for more information. Thanks!
Random Article from the SaturnFans.com Archives
Tags: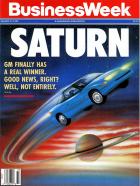 This August 17, 1992 issue of Business Week recognized Saturn as a rare success for General Motors. "As foreign rivals continue to flood the market with new models, Saturn is meeting them head on," wrote the magazine. "Almost overnight, Saturn has become the highest-quality American-made brand, with as few defects as Hondas and Nissans."