In a Band? Virtually Play at SaturnFest 2009 in Front of Several Thousand Visitors Next Month
Tags:

SaturnFans.com is currently looking for musicians who want to showcase their talents at the upcoming SaturnFest virtual homecoming celebration. SaturnFest '09 will take place online October 26th through the 30th on the computer-generated grassy fields of the Saturnalia Fairgrounds. Among the events previously announced will be a nighttime concert, which is where you come in. Performances by Saturn owners are preferred, but anyone is welcome to participate. Please contact me for more information. Thanks!
Random Article from the SaturnFans.com Archives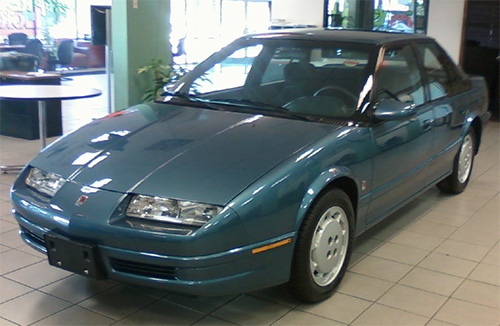 On this date in 1990, Saturn sold its first car. According to the St. Petersburg Times, the first Saturn - the blue SL2 sedan shown above - was sold just after midnight to Elaine Terry at Saturn of Clearwater. "I wanted an American-made car and decided to give it a try," Mrs. Terry told the newspaper. It was a 25th wedding anniversary present. USA Today and CNN were reportedly at the retail facility to document the event. "I kept it for 10 months and put over 5,000 miles on it. People all over the country wanted to buy the car from me. One man in Las Vegas was talking up to $100,000 for it."