In a Band? Virtually Play at SaturnFest 2009 in Front of Several Thousand Visitors Next Month
Tags:

SaturnFans.com is currently looking for musicians who want to showcase their talents at the upcoming SaturnFest virtual homecoming celebration. SaturnFest '09 will take place online October 26th through the 30th on the computer-generated grassy fields of the Saturnalia Fairgrounds. Among the events previously announced will be a nighttime concert, which is where you come in. Performances by Saturn owners are preferred, but anyone is welcome to participate. Please contact me for more information. Thanks!
Random Article from the SaturnFans.com Archives
Tags: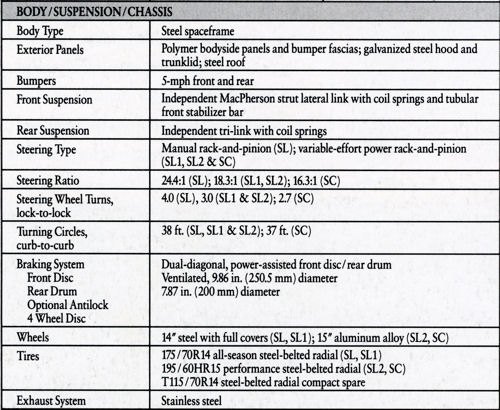 Shown above are the body, suspension, and chassis specifications for Saturn's 1991 sedans (SL, SL1, SL2) and coupe (SC). They were all built off of Saturn's so-called "Z" platform, which was essentially a compact front-wheel-drive steel spaceframe chassis.