Sign Up to Receive Daily SaturnFans.com News Updates in Your Mailbox
Tags:
Would you like to keep up with the latest Saturn news? You can now receive SaturnFans.com news updates every morning in your email mailbox. Updates will only be distributed if fresh Saturn stories are posted on the main page. Be among the first to read about the latest Saturn news, reviews, and rumors! Sign up today by entering your email address below.
You can also keep up with SaturnFans.com updates via Twitter and RSS.
Random Article from the SaturnFans.com Archives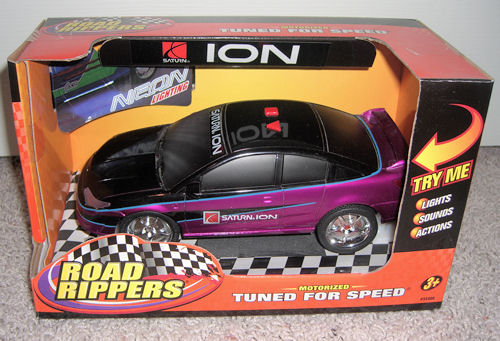 A few years ago Target sold some motorized Saturn Ion toys that were "tuned for speed." The cars were available in two colors: black/purple (pictured above) and red/black (below). On the top of each car were two buttons. Pressing the triangle caused the car to rev its engine, flash its headlamps and under-body neon lights, and finally zoom forward a few feet. The square button started a caused the car to play a catchy rhythmic tune with the lights flashing along to the beat.