Sign Up to Receive Daily SaturnFans.com News Updates in Your Mailbox
Tags:
Would you like to keep up with the latest Saturn news? You can now receive SaturnFans.com news updates every morning in your email mailbox. Updates will only be distributed if fresh Saturn stories are posted on the main page. Be among the first to read about the latest Saturn news, reviews, and rumors! Sign up today by entering your email address below.
You can also keep up with SaturnFans.com updates via Twitter and RSS.
Random Article from the SaturnFans.com Archives
Tags: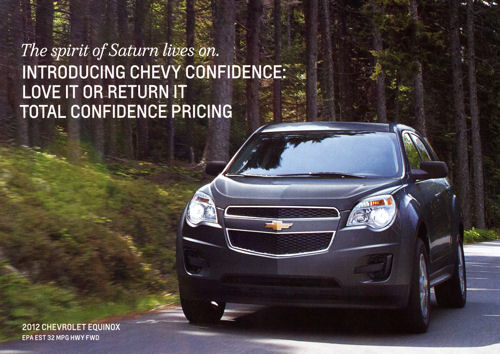 Over the summer I received a pamphlet in the mail from Chevrolet touting their summer-long "Chevrolet Total Confidence" pricing promotion. The cover of the mailing immediately caught my eye with the italicized words reading "the spirit of Saturn lives on."