Rock Around the Christmas Tree: the "24 Hours of Christmas" Live Feed Begins at 6pm
Tags: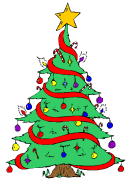 As a kid, I remember listening to the "24 Hours of Christmas" every year on Z-100 with my family. It's been called a New York holiday tradition for almost 25 years, and promoting the live feed online is something that's become an annual SaturnFans.com tradition. Z-100 hasn't aired the "24 Hours of Christmas" for the past several years, but their cross-town rival - 95.5 WPLJ - has been playing their very own version every year since the early 1990s. At 6pm this evening the tradition continues when WPLJ goes commercial-free for 24 hours to play the best traditional and contemporary (and some just plain silly!) holiday music.
So as you wrap presents, unwrap presents, and celebrate the holiday with your friends and family... tune in to WPLJ and enjoy. Just remember not to stay up too late wrappin' and rockin' tonight, because Santa is coming!
Merry Christmas from SaturnFans.com!
Random Article from the SaturnFans.com Archives
With a snarl in its exhaust note, an imposing stance from its racetrack-tuned suspension, and the immediate rush of its Ecotec 2.0-liter supercharged, 200 horsepower (estimated) engine, the 2004 Ion Red Line has a character like nothing else to come out of Saturn.