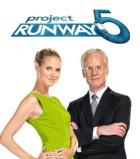 My wife is so excited! One of her favorite television shows, Project Runway, is set to return for its fifth season tonight on NBC's Bravo cable network. She's been a huge fan since the show began, and admittedly, as a result of some good product placement, I am now too. You see Saturn is a huge sponsor and supporter of Project Runway. Up until a day or two ago, things had been pretty quiet about the upcoming season, but the show's fans – including my wife – have been counting down the days to the start of Season 5... much like how Saturn fans look forward to the launch of a new model.
With the show's debut just around the corner, Bravo has released information about the cast and sponsors. The good news: Saturn is back!
Returning to the runway, host and supermodel Heidi Klum heads a panel of industry luminaries, including judges, top women's and men's wear designer Michael Kors, and fashion expert Nina Garcia, as they decide who is "in" and who is "out." Tim Gunn, Chief Creative Officer at Liz Claiborne, Inc. will once again act as a mentor to the designers as they take on weekly fashion challenges. In what is certain to be the most fabulous season yet, viewers can expect to see top names in fashion and design guest star as well as surprises and twists along the way on this season of "Runway." The 16 "Project Runway" contestants will be whittled down week-by-week to the finalists who will show their own line in front of an audience of fashion industry movers and shakers at New York Fashion Week.
Since Saturn joined up with the show, the brand has given away two Sky roadsters and an Astra. The winner of this season's show will win a 2009 Saturn Vue Hybrid, along with a host of other fashion-related prizes from companies like Loreal, Tresemme, and Bluefly. But, if you're like me, it's Saturn's role in the reality TV show that you're probably most interested in. According to Bravo's press release, here's a sneak peak at what Saturn will be up to.
A fully integrated sponsor, Saturn will award the winning designer a brand new 2009 Saturn VUE Hybrid. Saturn will also host an on-air vignette series featuring past "Project Runway" contestants who have been paired with a different Saturn vehicle and challenged to create an outfit inspired by the car. The vignettes detail their creative process, reveal the final results and drive online to a custom microsite to see how each designer "rethinks" design. The custom microsite also features additional footage, photo galleries and regular blogs from each designer. The site will also feature a weekly blog from Saturn advertising specialist, Lisa Gilpin and fans will be able to download widgets to put on their social networking sites. Saturn will also sponsor the "Fashion Fastlane" game on www.BravoTV.com as well as the Fashion Flyaway sweepstakes, which boasts an all-expense paid trip to New York and tickets to the season finale in Bryant Park.
In addition to blogging about the show, Lisa will be responsible for coordinating the company's product integration with the show. "We are extremely excited about our integration elements for this fifth season of the show – tune in and watch for product placement of the Vue hybrid, special 'vignettes' with past designers, and more!" she wrote earlier today on her blog at ImSaturn [2]. "We'll have a heavy online presence on the Project Runway page of www.BravoTV.com as well – including my blog and the sponsorship of 'Fashion Fastlane.'"
I don't know about you, but I'm looking forward to a season full of good Saturn commercials, product placements, and vignettes! So you now know what we'll be watching every Wednesday night for the next few months. Alright then... carry on, auf wiedersehen!
Source: Bravo, ImSaturn, The Futon Critic