Aerial Coverage of the 2012 Saturn Reunion Provided by a Stuffed Replica of the Saturn Lightship Blimp?
Tags: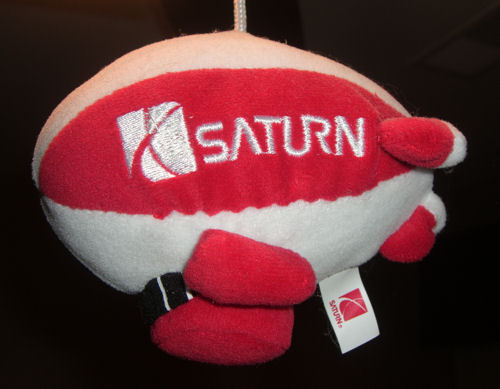 Circling high above SaturnFans.com World Headquarters (that is, my desk) is a stuffed replica of the Saturn Lightship. If it was a little bit larger (this plush blimp is only about 5 inches long) and able to fly through the air (it just hangs from a ceiling fan fixture by a piece of string) it might be able to provide a live video feed of me sitting in front of my PC feverishly typing Saturn updates for the next 24 hours. But, alas, you'll have to make due with text- and image-based updates to the SaturnFans.com home page this year. Maybe next time.
Random Article from the SaturnFans.com Archives
Tags:

Robert A. Lutz, GM Vice Chairman – Global Product Development, will transition to a new role effective April 1, 2009 as Vice Chairman and Senior Advisor. Lutz, 77, will provide strategic input into GM's global design and key product initiatives until his retirement at the end of 2009. He will continue to report to Wagoner.