New Renault Fluence Provides More Insight into What Could Become Saturn's Next Small Car
Tags: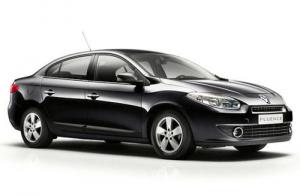 Last week, Renault took the wraps off the 2010 Fluence – a European version of the Samsung SM3 – a "fresh and modern" sedan, according to Edmunds' Inside Line, that "is remarkably well-equipped, with such options as a Carminat Tom Tom navigation system, keyless entry/ignition, and iPod connectivity." Like the Fluence, Saturn's next-generation small car is rumored to be based on the SM3. The Fluence will be built in Turkey and initially be sold in Romania, Russia, and Turkey. It features safety features such as "up to six airbags, plus ABS and stability control." The four-door will be offered with a wide variety of gasoline and diesel four-cylinder engines mated to either an automatic, manual, or continuously variable transmission. But that's not all. "Further leveraging the Renault-Nissan alliance," Inside Line adds, "the Fluence will come in an all-electric variant in 2011."
Rumors suggest that Saturn's version, which is unconfirmed at this time, could be built in Korea or at a Nissan plant in North America.
Source: Inside Line
Random Article from the SaturnFans.com Archives
I have my first new car ever, and I love it: a 2006 Saturn Vue. It isn't my first Saturn, though. I had a 1995 Saturn SL2 that I drove into the ground. I bought it used, on the cheap, since it was a rebuild from a wreck. About 7400 original miles were on the odometer, and at $8700 it was too good to pass up, since it was only three years old when I bought it.