Former Saturn Owner Struck by "Unresponsive" and "Inattentive" Treatment from Toyota Dealer
Reader "Capitol Hill" posed the following question to Warren Brown, the Washington Post Cars columnist: I've owned three Saturns. However, now that my L300 has died, I have decided to buy a Prius. I love the car and am happy to buy one. However, after my experience with Saturn, I was struck by how unresponsive and inattentive the Toyota dealer was. I had a similar experience 17 years ago, which is what drove me to Saturn. The only reason I stuck with Toyota this time is I really wanted the Prius. Not sure I would do it again when I buy my next car. Is this a common experience?
Warren's response: Yes, unfortunately, it is.
Random Article from the SaturnFans.com Archives
Tags: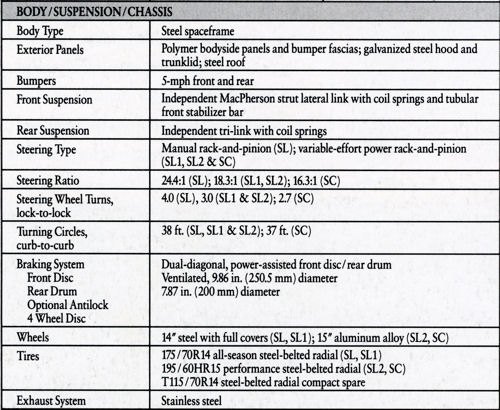 Shown above are the body, suspension, and chassis specifications for Saturn's 1991 sedans (SL, SL1, SL2) and coupe (SC). They were all built off of Saturn's so-called "Z" platform, which was essentially a compact front-wheel-drive steel spaceframe chassis.