What's New at SaturnFans

SaturnFans.com is updated around the clock by visitors like you! This page aggregates updates from across the site every 20 minutes, and then lists them chronologically below.
This page captures only new top-level items (i.e. front page news items, forum threads, or posted photos). It does not show, for instance, individual post replies or photo comments. Check each site section to see all of the latest comments, posts, and site updates: today's forum posts, new photos, latest classifieds ads, recent blog entries, and the latest Saturn news.
ALERT! THERE ARE SOME ISSUES WITH THE FORUM FEED, WHICH MAY OMIT SOME FORUM THREADS. PLEASE CLICK HERE FOR A COMPLETE LIST OF THE LATEST FORUM POSTS!
Random Article from the SaturnFans.com Archives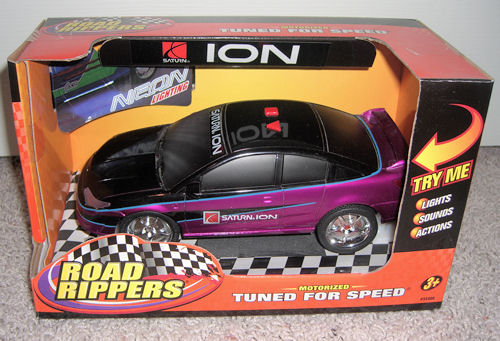 A few years ago Target sold some motorized Saturn Ion toys that were "tuned for speed." The cars were available in two colors: black/purple (pictured above) and red/black (below). On the top of each car were two buttons. Pressing the triangle caused the car to rev its engine, flash its headlamps and under-body neon lights, and finally zoom forward a few feet. The square button started a caused the car to play a catchy rhythmic tune with the lights flashing along to the beat.