What's New at SaturnFans

SaturnFans.com is updated around the clock by visitors like you! This page aggregates updates from across the site every 20 minutes, and then lists them chronologically below.
This page captures only new top-level items (i.e. front page news items, forum threads, or posted photos). It does not show, for instance, individual post replies or photo comments. Check each site section to see all of the latest comments, posts, and site updates: today's forum posts, new photos, latest classifieds ads, recent blog entries, and the latest Saturn news.
ALERT! THERE ARE SOME ISSUES WITH THE FORUM FEED, WHICH MAY OMIT SOME FORUM THREADS. PLEASE CLICK HERE FOR A COMPLETE LIST OF THE LATEST FORUM POSTS!
Random Article from the SaturnFans.com Archives
Tags: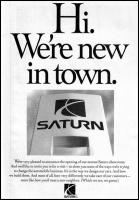 Back in the early 1990's Saturn was still building out its retail network and when new stores opened, they often ran advertisements like the one above in local area newspapers. This particular ad was printed inside the pages of a newspaper in New Jersey on June 25, 1993 to announce the opening of Saturn of Toms River.