Welcome ImSaturn Members
Tags:

With the pending closure of the ImSaturn social networking site, Saturn has been working closely with me to facilitate a transfer of the most popular "social groups" from the ImSaturn site to SaturnFans.com. The remaining folks at Saturn have a sincere interest in making sure Saturn owners continue to have a place to talk about their cars. As a result, I'm happy to announce the creation of the new "ImSaturn Groups" section here at SaturnFans.com. Now more than ever, it's important for Saturn owners to have a place to share their experiences and get help. The new groups were built to closely mimic the group configuration at ImSaturn. You'll still be able to post photos, as well as send and receive messages from other members. You can also create your own social group! You must be a member of SaturnFans.com in order to participate in group discussions. Unfortunately, ImSaturn accounts were not transferable to SaturnFans.com, so if you're not a member of this site please signup here. It's free and only takes a moment!
Below I've mapped the most popular ImSaturn groups to either the new groups at SaturnFans.com or to existing model-specific forums. If your favorite ImSaturn group didn't get recreated as part of the initial batch, send me a note and I'll make sure it gets added to the list.
Checkout all the Saturn Social Groups at SaturnFans.com!
Random Article from the SaturnFans.com Archives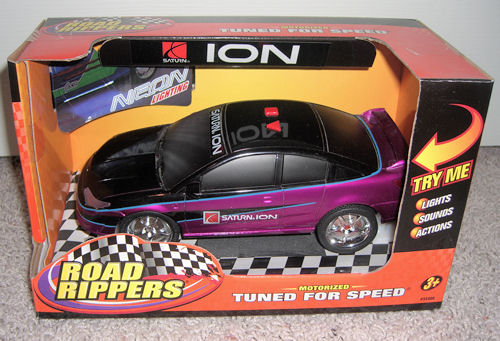 A few years ago Target sold some motorized Saturn Ion toys that were "tuned for speed." The cars were available in two colors: black/purple (pictured above) and red/black (below). On the top of each car were two buttons. Pressing the triangle caused the car to rev its engine, flash its headlamps and under-body neon lights, and finally zoom forward a few feet. The square button started a caused the car to play a catchy rhythmic tune with the lights flashing along to the beat.