Saturn Flag at Half Staff
Tags: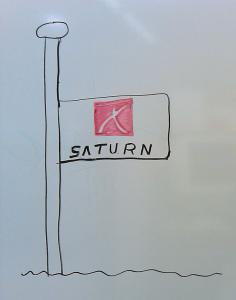 A good friend and coworker drew this Saturn flag at half staff on a whiteboard in my cubicle where I work on October 1, 2009.
Random Article from the SaturnFans.com Archives
Tags:
Associated Press: A $14 billion emergency bailout for U.S. automakers collapsed in the Senate Thursday night after the United Auto Workers refused to accede to Republican demands for swift wage cuts. The collapse came after bipartisan talks on the auto rescue broke down over GOP demands that the UAW union agree to steep wage cuts by 2009 to bring their pay into line with Japanese carmakers.