Saturn Flag at Half Staff
Tags: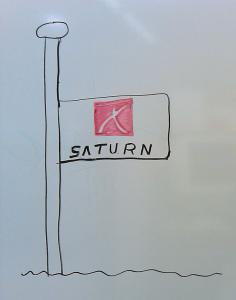 A good friend and coworker drew this Saturn flag at half staff on a whiteboard in my cubicle where I work on October 1, 2009.
Random Article from the SaturnFans.com Archives
Saturn launched its lineup of compact sedans and coupes in the fall of 1990 as an relatively unknown and untested manufacturer of "a different kind of car." The Saturn team did the impossible by implementing a set of strategies that included building quality vehicles and crafting an intriguing message that attracted car buyers who had written off domestic cars long ago. That was no small feat. In his book, "Building Strong Brands," author David Aaker set out to "not only to describe what was done but also to suggest the logic behind the strategies: why they were pursued, and how they were intended to contribute to the brand." He concluded that "although certainly some elements of the Saturn strategy may have been critical, it was the synergy of the total program rather than the power of any single element - that led to its success."