Future
Last week General Motors confirmed rumors that Chevrolet will replace its aging Tracker SUV with a version of the Saturn Vue in 2004, as a 2005 model. The new SUV will be called the Equinox. Like the Vue, the Equinox will be a five-passenger sport-utility built on GM's Theta architecture.
More information continues to surface regarding the Honda engine slated for the 2004 Saturn VUE sport utility. The Detroit Free Press reports today that General Motors has reduced the total number of 3.5L DOHC V-6 engines it plans to purchase from Honda. A 5-year technology and component-sharing contract signed between GM and Honda in December 1999.
Random Article from the SaturnFans.com Archives
Tags: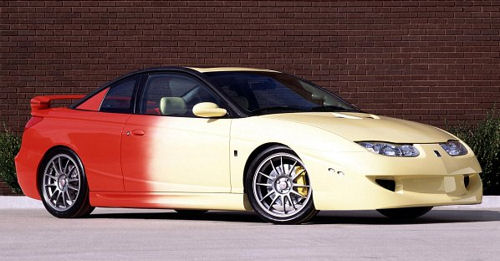 With its turbocharged engine and sizzling yellow-to-red paint scheme, the Saturn SCX three-door coupe ignited the passion of performance-car enthusiasts. The SCX's 1.9-liter DOHC 4-cylinder engine was modified by Saturn Motorsports of San Diego to yield an estimated 300 hp, more than double the engine's normal output in the Saturn SC2. Along with its hot engine, the SCX boasted a high level of handling and sporty appearance cues that reflected the car's performance capabilities.