Virtual Car Company Idea Stalled
Tags:
Joseph Szczesny from the Oakland Press: The theory of the virtual car company is a favorite concept of a lot of consultants and analysts that are part and parcel of the car business, not only in the U.S. but around the world. The idea draws a lot of its energy from the idea that a virtual company wouldn't need to have expensive engineering labs and assembly plants. Instead, they would belong to a supplier. In addition, the virtual company would limit the need to keep many expensive employees on the payroll and the "legacy" costs for pensions and health care benefits, leaving more money for critical things like executive bonuses and, of course, very lucrative contracts — or so the theory goes anyway. Last spring, Roger Penske, one of the most respected men in the car business and the founder of the industry's largest chain of auto dealers, the Penske Automotive Group of Bloomfield Hills, set out to create what might have become a virtual car company by utilizing General Motors' Saturn. Penske, of course, is immensely successful. But the reasons he is immensely successful is because he is pragmatic and disciplined. He also decided, rather quickly, that the current environment was quite right for a virtual car company. If Penske couldn't make it the idea work, I doubt anyone can.
Random Article from the SaturnFans.com Archives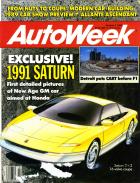 An illustration of the 1991 Saturn SC coupe appeared on the cover of AutoWeek's January 9th, 1989 issue. Inside, Kevin Wilson authored an article entitled "Saturn Rising" that discussed what was known about the mysterious Saturn project at the time of publication.