Virtual Car Company Idea Stalled
Tags:
Joseph Szczesny from the Oakland Press: The theory of the virtual car company is a favorite concept of a lot of consultants and analysts that are part and parcel of the car business, not only in the U.S. but around the world. The idea draws a lot of its energy from the idea that a virtual company wouldn't need to have expensive engineering labs and assembly plants. Instead, they would belong to a supplier. In addition, the virtual company would limit the need to keep many expensive employees on the payroll and the "legacy" costs for pensions and health care benefits, leaving more money for critical things like executive bonuses and, of course, very lucrative contracts — or so the theory goes anyway. Last spring, Roger Penske, one of the most respected men in the car business and the founder of the industry's largest chain of auto dealers, the Penske Automotive Group of Bloomfield Hills, set out to create what might have become a virtual car company by utilizing General Motors' Saturn. Penske, of course, is immensely successful. But the reasons he is immensely successful is because he is pragmatic and disciplined. He also decided, rather quickly, that the current environment was quite right for a virtual car company. If Penske couldn't make it the idea work, I doubt anyone can.
Random Article from the SaturnFans.com Archives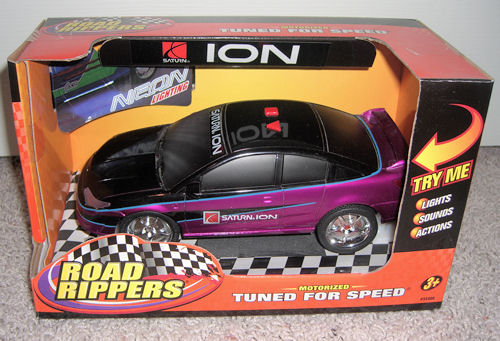 A few years ago Target sold some motorized Saturn Ion toys that were "tuned for speed." The cars were available in two colors: black/purple (pictured above) and red/black (below). On the top of each car were two buttons. Pressing the triangle caused the car to rev its engine, flash its headlamps and under-body neon lights, and finally zoom forward a few feet. The square button started a caused the car to play a catchy rhythmic tune with the lights flashing along to the beat.