Video: Saturn Featured on Lifetime TV's Morning Show "The Balancing Act"
Tags:
From the Balancing Act: If shopping for a vehicle strikes fear in your heart, we've got a story that puts you in the drivers seat! This segment focuses on one brand that takes customer service and the retail experience to the next level. Kim McGill, Director of Advertising and Promotions at Saturn, talks about the Saturn retail experience. The episode also features a testimonial from Saturn owner Mary Hague-Rogers about buying her Vue at a Florida retailer.
Source: The Balancing Act
Random Article from the SaturnFans.com Archives
Tags: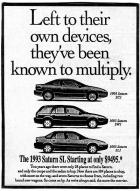 This folksy Saturn newspaper advertisement was one of many used to promote Saturn's newly expanded 1993 model year lineup of S-Series vehicles. The ad featured many of Saturn's classic advertising elements from that time period, including a catchy headline, a prominent photo, and a few clever sentences written to make the reader feel right at home with Saturn. "Left to their own devices, they've been known to multiply," read the main heading of the text.