UAW Worries About GM Plant in Spring Hill
Tags:

Associated Press from Forbes: Auto industry analysts suggest General Motors' Spring Hill plant could become vulnerable as the Obama administration makes steeper demands in return for federal financial support, and workers say they are nervous. President Barack Obama had said GM's initial plans to become viable didn't go far enough. Last week, he told the company it had 60 days to make more cuts and get more concessions from bondholders and unions, or it won't get any more government help. "We're a little nervous about what's going on with the decisions being made about the plants," said Michael Herron, chairman of United Auto Workers Local 1853, which represents the 2,911 hourly workers at Spring Hill. "We don't know when the decision will be made," he told The Tennessean, "but I believe they are going to move very, very quickly, and we may be at risk." Industry analysts say Spring Hill is vulnerable even though the carmaker spent $690 million to upgrade the facility in 2007 to prepare to build the new Chevrolet Traverse crossover utility vehicle, which went into production last fall.
Random Article from the SaturnFans.com Archives
Tags: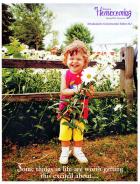 Pictured above is the front page of the single-page brochure created to promote the 1999 Saturn Homecoming SL2. Only a limited number of these green sedans were built to commemorate the brand's second homecoming celebration held in July of '99 at the former Saturn plant in Spring Hill, Tennessee. The MSRP for this special model was $17,405.