Thousands of Owners and Fans Speak Out in Support of Saturn as Speculation Rises and an Official Announcement Draws Near
Tags:

On what could be the eve of an official announcement from General Motors about the future of its former import-fighting brand, Saturn fans are anxiously waiting for news that will bring some closure to what's been an emotionally charged time - I can't even imagine how Saturn employees and retailers have felt going through this process.
While some fans have been very vocal when debating Saturn's long-term viability and future as an independent company, the vast majority of fans chose not to participate in the drama that's been playing out in the forums, and instead either signed the SaturnFans.com "Save Saturn" petition, sent me e-mails, or wrote letters to Saturn. Since December, more than 6000 folks have used the petition as a way to reach out to Saturn and show their support for the brand. I've periodically sent updates to Saturn to show how many owners and fans are rooting for them, hoping for a positive outcome. In addition to just signing the petition, 70% of folks left heartfelt, often emotionally charged, messages for Saturn and GM. I was originally hoping for 500 signatures, so I am very happy with the response to the petition. I'm told that our grassroots effort was acknowledged the highest levels within GM, which to me, makes the petition a success. I'd like to thank everyone who signed the petition - it will stay online, and I will continue to send updates to Saturn, until we know the company's fate.
Speaking of Saturn's fate, we should know something soon. The media has been reporting that Saturn would like to finish reviewing its options and make an announcement between the middle and end of April. Saturn spokesman Steve Janisse echoed that idea when he told Automotive News yesterday, "we will provide our retailers with an update about the feasibility study and where it stands and what the next step is. We'll do that either later this week or early next week." Earlier today, GM President and CEO Fritz Henderson said that he will announce an update on GM's restructuring activities late tomorrow morning. April 17th has long been rumored as the day a big announcement will be made. Will Saturn be part of GM's update?
If it is, rumors suggest there are several possibilities in the works for Saturn. Each one results in Saturn being completely spun off from GM and partnering with one, some, or all of the following entities:
French automaker Peugeot - who may be looking for a retail distributor in the US
Japanese manufacturers Mitsubishi and Subaru - who both have underutilized plants in the United States
GM - who could continue to provide a specific vehicle or two beyond the 2011 cutoff date
Black Oak Partners or another investment firm - who could align with Saturn and make arrangements with the aforementioned or even other manufacturers to build cars to Saturn specifications that could be sold in Saturn stores
Whatever the outcome, its certainly going to be an interesting time for Saturn. Any of these rumors (and they are all just speculation at this point, except for the Black Oak Partners arrangement, which was confirmed yesterday), show that Saturn will be embracing a business model that's completely different from the rest of the automobile industry. Its certainly a risky move, but one that must be taken if Saturn is to survive. And besides, Saturn has always been about change, so it seems fitting that they're once again about to become a different kind of car company. With its dedicated retail partners and satisfied owners, Saturn is probably the only brand in the business that's positioned and structured to pull off such a feat.
Random Article from the SaturnFans.com Archives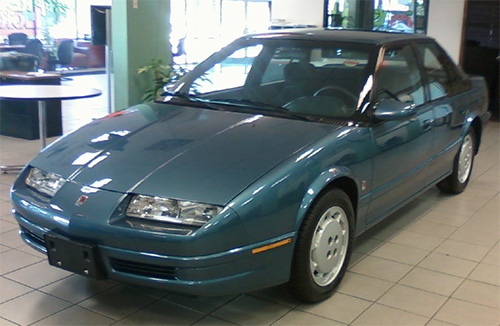 On this date in 1990, Saturn sold its first car. According to the St. Petersburg Times, the first Saturn - the blue SL2 sedan shown above - was sold just after midnight to Elaine Terry at Saturn of Clearwater. "I wanted an American-made car and decided to give it a try," Mrs. Terry told the newspaper. It was a 25th wedding anniversary present. USA Today and CNN were reportedly at the retail facility to document the event. "I kept it for 10 months and put over 5,000 miles on it. People all over the country wanted to buy the car from me. One man in Las Vegas was talking up to $100,000 for it."