Spring Hill, Columbia Worry About Life after GM
Tags:

G. Chambers Williams III from the Tennessean: Tom Smith opened the Video Shoppe in north Columbia a year after GM announced it would build a new Saturn plant in nearby Spring Hill. To his delight, the automaker put a giant training facility right next door, and rentals of his movies boomed. "I had a good run because of it," he said. But today, more than 20 years later, the South Central Tennessee Career Center has moved in next door, where unemployed people go to look for work. "Their business is great, but mine is not," Tom Smith said. Maury County's August unemployment rate was 12.4 percent, up from 7.9 percent a year earlier. Already hit hard by the economic downturn, Tom Smith and other merchants in Columbia and Spring Hill, which have thrived on carmaking jobs for two decades, are bracing for more trouble as the auto industry shrinks.
Random Article from the SaturnFans.com Archives
Tags: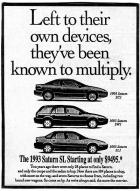 This folksy Saturn newspaper advertisement was one of many used to promote Saturn's newly expanded 1993 model year lineup of S-Series vehicles. The ad featured many of Saturn's classic advertising elements from that time period, including a catchy headline, a prominent photo, and a few clever sentences written to make the reader feel right at home with Saturn. "Left to their own devices, they've been known to multiply," read the main heading of the text.