Some Saturn Owners, Retailers Have a Special Relationship with Vanishing Brand
Tags:

Dan Gearino from the Columbus Dispatch via the Boston Herald: The toughest part for Saturn fans was the suddenness. For months, Penske Automotive Group worked on plans to buy the Saturn brand from General Motors. And then, in an instant last week, the deal evaporated. Saturn is now slated to wind down over the next year. "We were caught off guard as much as everyone," said Steve Whitman of Clintonville, vice president of the Central Ohio Saturn Car Club. Penske walked away from the deal after being unable to find a manufacturer to make Saturns after a contract with GM runs out in 2011. There's been no word on another buyer emerging. "Our initial shock was, 'Gee, what happens now?' " Whitman said. The question is doubly important for Al Clapsaddle. He was one of the club's founders, and then in 2001 he retired from his job at Lucent Technologies and became a salesman at Saturn of Columbus West in Hilliard. "Many things go through my mind," he said. "First off was anger. I was really mad and I didn't know who to be mad at. I wanted to look somebody in the eye and say, 'What the heck?'"
Random Article from the SaturnFans.com Archives
Tags: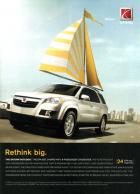 I don't know when I started receiving "Dwell" magazine, and I don't know why. Neither my wife nor I can recall subscribing to it, but its been showing up in our mailbox every month. I'm guessing it was a gift, but I feel bad for not remembering who might have given me the subscription. Maybe I was on a mailing list and I'm now "test driving" the magazine for free for a few months...