Saturn Goes Mobile with New Web Site and Text Messaging Service
Tags:
Saturn has always strived to be ahead of the curve – whether it comes to customer service, design, or technology. Now, Saturn is dabbling in the latest form of digital communication: mobile marketing.
Mobile communication is the wave of the future, and Saturn is getting involved at the ground level with a new mobile web site and text messaging campaign. The best thing about this new technology? You'll be able to access official Saturn information from your mobile device - wherever and whenever you like.
To view Saturn's mobile Web site, visit saturn.enpocket.com on your mobile device. Currently, the site is focused on the launch of the all-new Astra.
From this site, you can view Astra product information, begin the Astra early-ordering process, find the nearest Saturn retailer, download wallpapers, sign up to receive more Saturn information, or request Saturn updates via text message. In the future, the entire Saturn portfolio will be featured along with even more functionalities. For instance, Saturn is in the pilot phase of testing a way to sign up for a test-drive via the mobile site.
To engage in Saturn's test messaging SMS campaign, simply text one of the following key words – Astra, Run, or Saturn – to 728876 on your hand-held wireless device. Through an automated dialogue, you can learn more about Saturn's revitalized product portfolio or locate the retailer nearest you. Text messaging is a great way to get the Saturn information you need while you're on the go.
Source: Saturn
Random Article from the SaturnFans.com Archives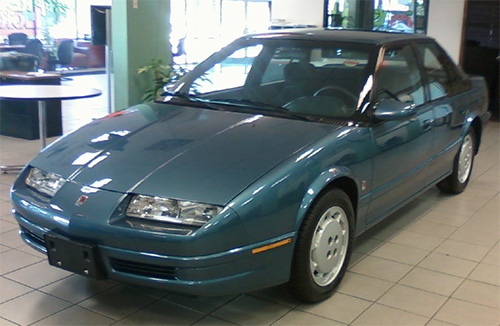 On this date in 1990, Saturn sold its first car. According to the St. Petersburg Times, the first Saturn - the blue SL2 sedan shown above - was sold just after midnight to Elaine Terry at Saturn of Clearwater. "I wanted an American-made car and decided to give it a try," Mrs. Terry told the newspaper. It was a 25th wedding anniversary present. USA Today and CNN were reportedly at the retail facility to document the event. "I kept it for 10 months and put over 5,000 miles on it. People all over the country wanted to buy the car from me. One man in Las Vegas was talking up to $100,000 for it."