Saturn Deal Still Expected to Close this Month
Tags:
Kenneth Klee from the Deal Magazine: Deal by deal, the auto industry is being reinvented. Though it's obvious when you think about it, it's still head-spinning when you try to bring the scope of the activity into focus. Here is a vast swath of the global economy in the midst of an urgently needed re-engineering. Business models are morphing, the value chain is tightening, the geographic distribution of demand is shifting, and new, game-changing technologies are working their way to market. And since deals, broadly defined, are one of the main things organizations do to navigate change, the whole transactional tool kit is getting a workout such as we've never seen. Consider the acquisition of General Motors' Saturn brand by Roger Penske and his Penske Automotive Group, expected to close this month. Owning a brand and the customer relationships, while outsourcing the engineering and manufacturing, is a very new idea. So who will supply the cars after GM's obligations expire? Maybe Renault-Nissan's Samsung unit.
Random Article from the SaturnFans.com Archives
Tags: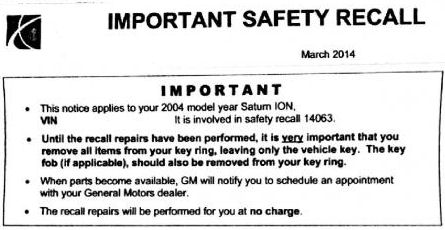 SaturnFans.com has obtained a copy of the letter being sent out to Ion owners impacted by the ignition switch recall. The bottom line: replacement parts are not available and if you have to drive your car make sure you remove the key fob and any other keys to eliminate any excess weight on the ignition key.