Saturn of Atlanta is Excited About the Future of Saturn
In the midst of these unprecedented economic times, Saturn and General Motors have come to the realization the two companies do not share the same vision for the future. In that light, Saturn retailers throughout the United States are planning to establish independent ownership of the Saturn brand. One possibility would be to create the Saturn Distribution Corporation (SDC).
SDC would be solely owned by the Saturn retail network and would be free from the constraints of the General Motors Corporation. Therefore, when you talk with your Saturn retailer, you would be talking with the owner of a nationwide auto company. A novel change to the way America does automotive business.
Saturn will continue to use GM production facilities for the time being, but rest assured that in the future we will only pair up with a company that brings the highest level of quality to Saturn. Saturn cars have always been built to our unique specifications and our designs and standards have never been compromised. Rest assured, our standards for quality will be maintained and will only improve under the new ownership structure.
Saturn Corporation is headed back to its roots, and the reason we were created-to serve our customers better than anyone in the automotive industry. We remain committed to bring you the Saturn to which you fell in love and the customer service you came to know and trust. Saturn will continue to meet each challenge with our customer needs foremost in our mind. We truly are not like any other manufacturer... we are SATURN. "A different kind of car, a different kind of car company," is more accurate now than it has ever been.
Source: Saturn of Atlanta
Random Article from the SaturnFans.com Archives
Tags: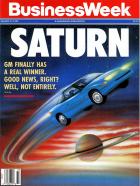 This August 17, 1992 issue of Business Week recognized Saturn as a rare success for General Motors. "As foreign rivals continue to flood the market with new models, Saturn is meeting them head on," wrote the magazine. "Almost overnight, Saturn has become the highest-quality American-made brand, with as few defects as Hondas and Nissans."