Saturn Aims to Ring in a New Era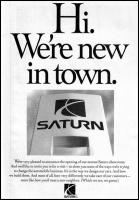 G. Chambers Williams III San Antonio Express-News by way of the Akron Beacon Journal: Don't write the obituary for Saturn just yet. Plans are under way to spin the brand off into an independent distribution company, which then would contract with other automakers to build the vehicles. Saturn's dealers and GM managers say any plan they decide on would maintain the dealer network — but eventually field a new line of non-GM vehicles. GM has said that it won't provide vehicles to Saturn dealers beyond 2012. The new company would be free to enlist other automakers to build vehicles to replace those now in Saturn showrooms. Unlike the rest of GM's brands, in which dealers are franchised directly by the automaker, Saturn's 208 U.S. dealers — which operate about 400 stores — are franchised through the Saturn Distribution Corporation, a wholly owned GM subsidiary. There are about 50 stores in Canada, as well, operated by Canadian dealers. With a spinoff, all ownership ties to GM would be severed, said Tom Zimbrick, a longtime Saturn dealer who owns stores in Madison, Wisconsin, and Rockford, Illinois, and serves on the 16-member Saturn Franchise Operations Team. Eight of those members are dealers, and the rest are employees of Saturn. Because of confidentiality agreements, Zimbrick and Lajdziak declined to name specific investors or automakers involved in the talks. But both said that interest has been surprisingly high.
Random Article from the SaturnFans.com Archives
Tags:
Is your new Saturn missing something? Are you in the market for a new car and wish Saturn offered a something different that better suited your needs? What would you like to see from Saturn in the future? Saturn's general manager, Jill Lajdziak, wants to know what's on your mind.