Roger Penske Talks about Failed Saturn Deal
Tags:

Below a partial transcript detailing comments made by Roger Penske pertaining to his failed acquisition of the Saturn brand during the Penske Automotive Group's (PAG) third quarter 2009 earnings call held this past Friday, October 30th.
As you know, we terminated our agreement to acquisition the Saturn brand on September 30. In total, we incurred $3.3 million of transaction expenses relating to Saturn, $3.0 million of which was incurred in the third quarter. Let me make a few comments on Saturn before we close. As you know, we signed an MOU with GM on June 5 to buy the Saturn brand. After significant negotiation and due diligence, we had negotiated a deal and were prepared to execute, however we felt that we needed a vehicle supply agreement in place for vehicles after the GM supply contract expired before we closed the transaction with General Motors. We considered a number of vehicle supply sources and quickly determined that Renault Samsung was in the best position to provide a complete range of vehicles meeting U.S. standards for safety, emission, and fuel requirements. We began negotiating with Renault in July and believed we were making substantial progress towards a definitive agreement that would close at the same time as the GM transaction. At the last minute, Renault concluded that the terms of the proposed vehicle supply agreement could not meet their return requirement. Based on their unwillingness to proceed, we did not have any viable source for product after the GM supply agreement expired. I had to call GM and tell them we would not be able to proceed with the transaction. We as a company could not accept the risk of moving forward without a source of vehicles. However, at this time I would just like to commend the people on the PAG due diligence team and the good people we worked with at GM for all the work they did on the project. But again, a big disappointment, but I think it's the right decision.
Source: Seeking Alpha
Random Article from the SaturnFans.com Archives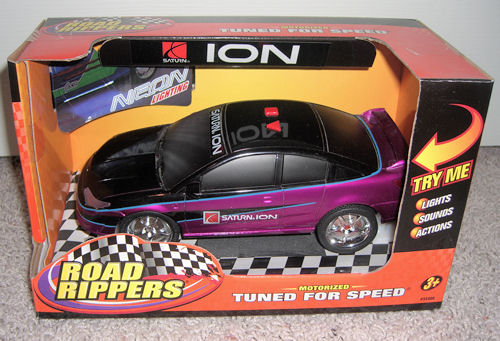 A few years ago Target sold some motorized Saturn Ion toys that were "tuned for speed." The cars were available in two colors: black/purple (pictured above) and red/black (below). On the top of each car were two buttons. Pressing the triangle caused the car to rev its engine, flash its headlamps and under-body neon lights, and finally zoom forward a few feet. The square button started a caused the car to play a catchy rhythmic tune with the lights flashing along to the beat.