Retailers Quietly Mark the End of an Era
Tags:

Don Hammonds from the Pittsburgh Post-Gazette: When Rikki Kirchner of Santa Clarita, California, heard that Saturn was going out of business, she marched out to her Saturn Astra and ripped the General Motors emblems right off the car. "I know a guy who did that too. Heck, Saturn's an orphan right now, and it's a sad day," she said. "When I heard that Roger Penske was buying it, I danced around my office. Me and some other Saturn owners were giving each other high fives, we were so happy. Now, when I heard he wasn't going to buy it, my world was just crushed." Last week, businessman and former race driver Mr. Penske announced that he was ending talks with GM about purchasing Saturn because he did not have a source of cars lined up once GM stopped providing products to him in 2011. Almost immediately, GM CEO Fritz Henderson said production of the brand would end - and it did within 24 hours. Now, Saturn dealers are left with hard-to-sell dealership buildings that are smaller than the industry average, and sales staffs that could find it hard to get jobs for dealerships that don't abide by the "no haggle" pricing policy that Saturn used, industry analysts say. "I'm just really upset about the whole thing," Ms. Kirchner said. "The brand's reputation is very good, and their reliability is excellent. And just the whole Saturn buying process - I went out of my way to buy my Astra from the dealer I bought my first one from."
Random Article from the SaturnFans.com Archives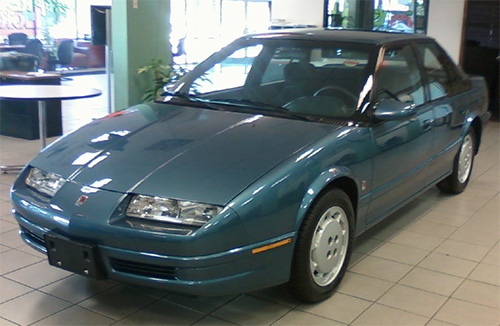 On this date in 1990, Saturn sold its first car. According to the St. Petersburg Times, the first Saturn - the blue SL2 sedan shown above - was sold just after midnight to Elaine Terry at Saturn of Clearwater. "I wanted an American-made car and decided to give it a try," Mrs. Terry told the newspaper. It was a 25th wedding anniversary present. USA Today and CNN were reportedly at the retail facility to document the event. "I kept it for 10 months and put over 5,000 miles on it. People all over the country wanted to buy the car from me. One man in Las Vegas was talking up to $100,000 for it."