Penske Calls Off Saturn Deal with GM
Tags:
From the Detroit News: Detroit tycoon Roger Penske has terminated a deal with General Motors for the Saturn brand after Penske's prospective provider of new vehicles pulled out. The deal broke down after the Renault-Nissan Alliance decided Wednesday not to proceed with a deal to supply Penske with future vehicles for Saturn dealers, according to a source familiar with the discussions. The deal's unraveling dooms about 340 dealers and the Saturn brand, which appeared to have been rescued this summer when Penske announced he had reached a memorandum of understanding with GM. The deal was expected to be finalized as early as Wednesday, and dealers already had signed and returned new two-year sales and service agreements to Penske. Instead, GM will gradually shutter the dealerships, "in accordance with the wind-down agreements that Saturn dealers recently signed with GM," the automaker said Wednesday. Details are expected to be announced soon. Penske had hoped to finalize an agreement with Renault, whose South Korean subsidiary Samsung was expected to produce the vehicles. He had met with Renault SA CEO Carlos Ghosn as well as Ghosn's No. 2 at Renault, Patrick Pelata, according to the source familiar with the negotiations.
Random Article from the SaturnFans.com Archives
Tags: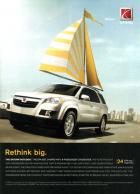 I don't know when I started receiving "Dwell" magazine, and I don't know why. Neither my wife nor I can recall subscribing to it, but its been showing up in our mailbox every month. I'm guessing it was a gift, but I feel bad for not remembering who might have given me the subscription. Maybe I was on a mailing list and I'm now "test driving" the magazine for free for a few months...