Invitation Extended to Dealers
Today Saturn's 350 dealerships will receive a letter from corporate headquarters extending them an invitation to join the Penske Automotive Group. The letter will not contain a franchise agreement or any other legally binding contract. According to Saturn spokesman Steve Janisse "It's just an informational piece talking about the terms of the sale and offering them an opportunity to transition to this new owner." Janisse also told Automotive News that dealerships that decline the invitation will be transitioned into "termination mode." Specifics have not been released, as they are reportedly still being discussed by executives. Approximately 1,350 dealers are currently being transitioned to this mode inside General Motors. Perhaps the terms in their transition will set a precedent for these Saturn dealerships.
Source: Automotive News, Wall Street Journal
Random Article from the SaturnFans.com Archives
Tags: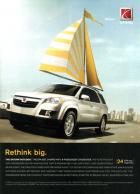 I don't know when I started receiving "Dwell" magazine, and I don't know why. Neither my wife nor I can recall subscribing to it, but its been showing up in our mailbox every month. I'm guessing it was a gift, but I feel bad for not remembering who might have given me the subscription. Maybe I was on a mailing list and I'm now "test driving" the magazine for free for a few months...