Iconic Saturn Brand Could Stay on the Road Beyond General Motors
Tags:
G. Chambers Williams III from the Nashville Tennessean and USA Today newspapers: Whether or not General Motors receives emergency federal loans, it may have to sacrifice its iconic Saturn brand, which got its start in the mid-1980s. GM's (GM) sales pitch to win billions in federal assistance includes the possible sale or shutdown of the once-promising Saturn brand. Many observers, including a longtime Saturn dealer who owns three Nashville-area outlets, said they think Saturn will survive as a brand, perhaps sold to a rival foreign manufacturer. He said he has "no idea" what manufacturer that might be, but analysts have suggested that among the suitors for Saturn might be a European company or perhaps a Chinese automaker looking for an easy entry to the U.S. market with an established dealer network.
Random Article from the SaturnFans.com Archives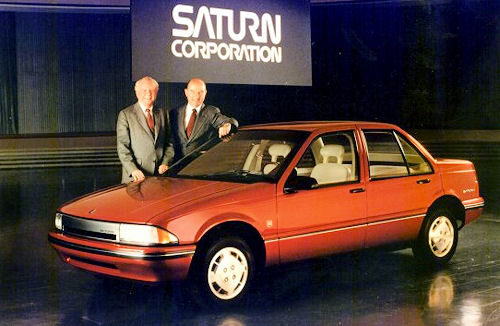 This was the first Saturn demonstration prototype vehicle. It was completed for evaluation and shown to the media on September 15, 1984. General Motors Chairman and CEO at the time, Roger Smith, and GM's then-President and Chief Operating Officer, F. James McDonald, are pictured with the 1985 Saturn four-door sedan concept.