With "Golden Touch" Saturn Can Survive on Its Own
Tags:
Don Hammonds from Pittsburgh Post-Gazette: Saturn's purchase by Mr. Penske may be its best asset. "The Penske organization owning the distribution and name is a major, major plus. He has a golden touch with anything he's connected with," Detroit-based independent auto analyst Tom Libby said. The major challenge, he said, is giving a customer a compelling reason to buy a Saturn rather than another vehicle. "If the answer is superior customer experience, I'd respond by saying that it is not clear that message is strong enough to give them market share. It's not clear you can grow by more than 2% with that message." Much will also depend upon what products Mr. Penske chooses to bring in from overseas to replace the current lineup when the agreement with GM to produce Saturns expires in 2011.
Mr. Libby expects Mr. Penske to be very picky and exacting about products from Europe, Asia and elsewhere. "He's a shrewd businessman. He has to have his standards met with his products, or he will have issues," he added. One of the cars mentioned most often as a possible Saturn is the Renault Megane, and if that's true, it's a good move, Mr. Gluckman said. "I've driven the new Megane, which I hear they may bring over. It's a good car, and there's good potential with that," he added.
Random Article from the SaturnFans.com Archives
Tags: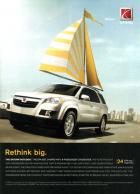 I don't know when I started receiving "Dwell" magazine, and I don't know why. Neither my wife nor I can recall subscribing to it, but its been showing up in our mailbox every month. I'm guessing it was a gift, but I feel bad for not remembering who might have given me the subscription. Maybe I was on a mailing list and I'm now "test driving" the magazine for free for a few months...