GM to Close Saturn After Penske Ends Talks
Tags:
From the Associated Press via MSNBC: GM will stop making Saturns as soon as possible, but no layoffs are expected, said spokeswoman Sherrie Childers Arb. GM had stopped building the Aura midsize sedan in Kansas City, Kansas, and will not resume assembling them. Production of the Outlook large crossover near Lansing, Michigan, and the Vue small crossover vehicle in Ramos Arizpe, Mexico, will be phased out as soon as possible, she said. "Those plants produce products for other brands, and we think we can increase volume on those products that will meet market demand," Childers Arb said. Saturn owners can still go to Saturn dealers for service. They would also be able to go to a certified GM dealer once Saturn dealerships close, GM said. The news left many of dealers across the country, who had expected the sale to close Wednesday, stunned and fearful of being left with nothing to sell. Carl Galeana, owner of two Saturn dealerships in suburban Detroit, said he's heard nothing yet from GM or Saturn, but if the plan is to phase out the brand and cut the products, he'll have to come up with other options. "We're going to try to put some plan Bs in place at this point."
Random Article from the SaturnFans.com Archives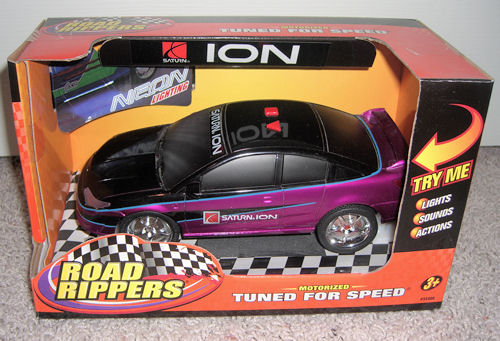 A few years ago Target sold some motorized Saturn Ion toys that were "tuned for speed." The cars were available in two colors: black/purple (pictured above) and red/black (below). On the top of each car were two buttons. Pressing the triangle caused the car to rev its engine, flash its headlamps and under-body neon lights, and finally zoom forward a few feet. The square button started a caused the car to play a catchy rhythmic tune with the lights flashing along to the beat.