GM Aims to Dispell Rumors and Set the Record Straight with "Facts and Fiction" Website and Video
Tags:

As you're probably aware, the United States auto industry is in dire need of help getting through these tough economic times. There's a lot of speculation about the financial and economic impact on the U.S. if any of the "Big 3" automakers were to collapse. As a result of all the hearsay, there's a lot of misinformation being perpetuated that's causing a lot of confusion about the situation. To help set the record straight, GM has put together a video (you can watch it below) showing the impact that our auto industry has on the U.S. economy in terms of growth, jobs, health care benefits, government tax loss and the well-being of other large industries. In addition, Saturn General Manager Jill Lajdziak wrote last week on her ImSaturn blog that "GM has created a website to help answer common questions, detail the facts and figures of how much is at stake here, and dispel some of the myths."
The company is encouraging folks to visit the site, GM Facts and Fiction, to learn more about the issues and to write their member of Congress to support the auto industry. The impact is far-reaching.
Source: General Motors, ImSaturn
Random Article from the SaturnFans.com Archives
Tags: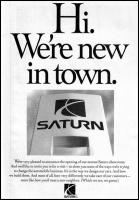 Back in the early 1990's Saturn was still building out its retail network and when new stores opened, they often ran advertisements like the one above in local area newspapers. This particular ad was printed inside the pages of a newspaper in New Jersey on June 25, 1993 to announce the opening of Saturn of Toms River.