Flashback Friday: Saturn "Visions"
Tags: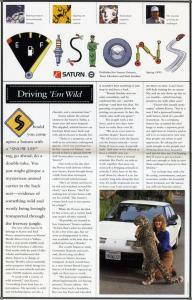 The news last week about Saturn's current owner magazine going all-digital got me thinking about the first Saturn owner newsletter. The first one that I can remember at least. Long before there was "Saturn 360" or even "Saturn Signatures," there was a quarterly publication called "Visions" that Saturn put together for owners, team members, and their families.
I seem to remember picking up my first copy at a local Saturn retailer, but then later receiving additional issues in the mail. From what I recall, Visions eventually evolved into what became the official Saturn CarClub newsletter. What you see here is the earliest issue of Visions that I can find in my Saturn archives from the spring of '93.
The format of Visions was a little different than the Saturn 360 publication that you can read today online, but the type of content featured on its pages was similar. There were no online digital versions or fancy glossy magazine covers. The eight-page periodical unfolded like a newspaper, and was printed recycled paper with a soy-based ink. It was chock full of in-depth information about different Saturn features, owner spotlight stories, and the latest updates from Saturn.
Random Article from the SaturnFans.com Archives
Tags:
Saturn recently added a new feature to its website that allows visitors to pose questions directly to General Manager Jill Ladjziak. Some folks have already taken advantage of the opportunity. They've asked questions about Saturn's future, the impact any changes in ownership will have on their vehicle warranty, and who she rooted for during the Stanley Cup finals (well, maybe not that question). Keeping in close contact with customers is something Jill has always felt strongly about and excelled at doing. This new tool gives Jill and her team a way to communicate on a personalized level with owners and enthusiasts.