Flashback Friday: 1998 Saturn Website
Tags: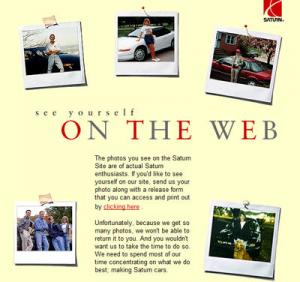 This week's look back in time comes courtesy of the Internet Archive's Way Back Machine. Saturn.com has come a long way since those early days on the Web. Above is a screenshot taken from the owner photo page on Saturn's website circa 1997-98. Back then, the site was primarily split in two parts highlighting different aspects of the company's corporate initiatives and Saturn's 1998 model year cars. Unfortunately, the WBM didn't retain all the images associated with the site, so the photo page pictured is one of the few with all of its images intact. However, you can still virtually browse the site via their cached archive servers.
Random Article from the SaturnFans.com Archives
It's been more than three years since General Motors announced it was shuttering its "different kind of car" division. At the time, Roger Penske was attempting to purchase the brand and possibly stock it with cars sourced from plants in the US, South Korea, Mexico, or even Europe. Ultimately Mr. Penske couldn't get a deal done within GM's tight timeframes and Saturn was closed. While frantically attempting to keep up with rumors swirling around Saturn that fateful year, I made a decision to rethink the way I was collecting and reporting the news. In the midst of all the uncertainty surrounding Saturn, I began to draw up plans for new and improved version of SaturnFans.com that could not only help visitors track what Saturn news was happening, but where it was happening as it was happening.