Flashback Friday: 1998 Saturn Website
Tags: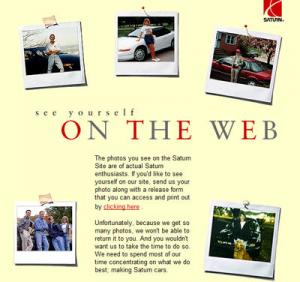 This week's look back in time comes courtesy of the Internet Archive's Way Back Machine. Saturn.com has come a long way since those early days on the Web. Above is a screenshot taken from the owner photo page on Saturn's website circa 1997-98. Back then, the site was primarily split in two parts highlighting different aspects of the company's corporate initiatives and Saturn's 1998 model year cars. Unfortunately, the WBM didn't retain all the images associated with the site, so the photo page pictured is one of the few with all of its images intact. However, you can still virtually browse the site via their cached archive servers.
Random Article from the SaturnFans.com Archives
Saturn's overall August sales fell 3.5% last month as retailers sold 20,385 vehicles, down from 21,117 in August of '07. Comparatively speaking, thought, the brand more than held its own in a very tough market. GM's overall sales were down 20.3% last month, Ford fell 26.5%, Toyota's were down 9.4%, and even Honda's sales came in 7.3% lower.