Flashback Friday: 1998 Saturn Website
Tags: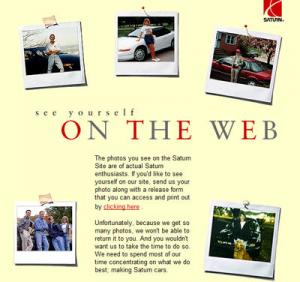 This week's look back in time comes courtesy of the Internet Archive's Way Back Machine. Saturn.com has come a long way since those early days on the Web. Above is a screenshot taken from the owner photo page on Saturn's website circa 1997-98. Back then, the site was primarily split in two parts highlighting different aspects of the company's corporate initiatives and Saturn's 1998 model year cars. Unfortunately, the WBM didn't retain all the images associated with the site, so the photo page pictured is one of the few with all of its images intact. However, you can still virtually browse the site via their cached archive servers.
Random Article from the SaturnFans.com Archives
Tags:
With the 2008 model year winding down, summertime car deals are beginning to ramp up. "Here are some incentive packages that we think are worth a look," wrote the CNNMoney.com in an article posted this afternoon. Just yesterday, Saturn announced a zero-percent financing offer for the Sky, Vue, and Aura. Today, the website named Saturn's Aura one of this month's "hottest" deals.