Debunking Myths About Detroit
Tags:
John McElroy from WardsAutos.com: The debate about bailing out Detroit's auto makers has hit a fever pitch. Everybody wants to weigh in with their opinion. The louder they rant, and the crazier their claims, the more coverage they get. There always are two sides to every argument, but this discussion shows how much misinformation, misperception and wrong-headed "facts" are being bandied about. Let me debunk the five most popular myths I keep hearing.
Random Article from the SaturnFans.com Archives
Tags: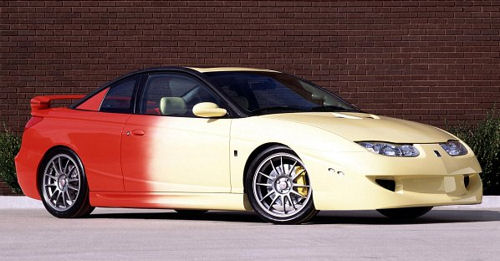 With its turbocharged engine and sizzling yellow-to-red paint scheme, the Saturn SCX three-door coupe ignited the passion of performance-car enthusiasts. The SCX's 1.9-liter DOHC 4-cylinder engine was modified by Saturn Motorsports of San Diego to yield an estimated 300 hp, more than double the engine's normal output in the Saturn SC2. Along with its hot engine, the SCX boasted a high level of handling and sporty appearance cues that reflected the car's performance capabilities.