Confirmed: GM Plans to Sell Saturn
Tags: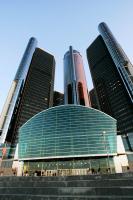 In a news brief today, GM confirmed that there a several buyers interested in purchasing Saturn. While no specific names were mentioned, the company anticipates a sale to be made by the end of the year. The company advising the sale of the brand is S.J. Girsky & Co. Speculations abound as to which parties are interested in purchasing the brand. Last month, Black Oak Partners, based in Oklahoma City, confirmed it's interest in purchasing the brand. Rumors speculate throughout the media that the company is also looking for potential buyers in foreign markets such as China and India. Both countries are eager to gain market share in the United Sates.
The complete GM news brief from today is shown below:
General Motors is proceeding to the next step with respect to the sale of Saturn. A number of potential buyers have surfaced and expressed interest in the Saturn brand and retailer network. GM will be reviewing expressions of interest from the potential buyers and will look to secure an agreement with a specific buyer later this year. S.J. Girsky&Co. has been retained by GM as advisor for this transaction. Saturn will continue to keep its retailers updated on its progress throughout this process.
Sources: GM, Reuters, Fox News
Random Article from the SaturnFans.com Archives
Automotive News reported early this morning that General Motors plans to import the Opel Astra from Europe to replace the current Saturn Ion sedan and quad coupe late next year. While speculation about this plan has long been rumored, unnamed sources within both GM and Opel reportedly have recently confirmed it to Automotive News.