What is a Spaceframe?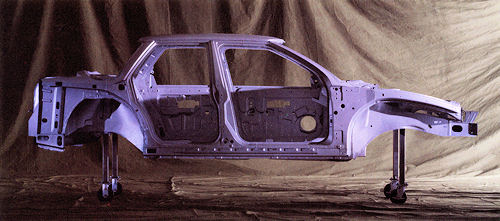 You may hear longtime Saturn enthusiasts rave about, and then lament the loss of, a steel spaceframe design forming the foundation of their cars. But what actually is a spaceframe?
The spaceframe and polymer side panels were concepts that originated with the S-Series, were utilized in a modified form with the L-Series, and were finally discontinued with the Ion in 2007. They were a unique feature in the midsize and entry-level segment that significantly differentiated Saturn in the marketplace. The spaceframe was the complete structure of the car from the rear-end all the way to the front of the vehicle. The polymer panels, which include all vertical panels (fenders, doors, quarter panels, rocker cover, and front and rear fascias), were mounted to the spaceframe. Saturn's S-Series were built on a spaceframe design that surrounded the entire care with a steel safety cage. The design proved to be very effective in many types of high-speed and rollover crashes. The L-Series cars had what Saturn called an "enhanced" spaceframe. This was essentially a hybrid spaceframe-unibody architecture. A unibody design uses a car's exterior shell to provide all structural support. On the L-Series, the front quarter panels and door panels were polymer; rear quarter panels were be steel.
The polymer body side panels were attached to the frame for appearance only; they provided no structural reinforcement. When Saturn did its own pre-production crash testing, all of the cars body panels are removed so that Saturn engineers could see how different parts of the frame absorb the energy of the impact.
The spaceframe was made of stamped steel. Saturns used high-strength steel strategically within the spaceframe for maximum strength, structural integrity, space optimization and crash-worthiness. This strength and rigidity, as well as dimensional accuracy, was further enhanced with one-piece stamped steel body sides, another feature unique to the segment. Conventional body sides are typically built in multiple sections. In addition to increased rigidity in the car's basic structure, the one-piece stamped body sides enhanced quality because there were fewer components to be assembled.
Source: Saturn
Random Article from the SaturnFans.com Archives
Tags:
Saturn general manager Jill Lajdziak wants your help building a more satisfying retail network. She's looking for dedicated owners to participate in a new "mystery shopper" program that's designed to provide the company with direct feedback about the level of service you receive at Saturn stores. Saturn owners will soon be getting an e-mail about the opportunity from Jill, but she'd like to give SaturnFans.com visitors first dibs on becoming a Saturn Mystery Shopper – well, Jill says that Saturn Business Analyst will actually be your title.