What Does Saturn Have in Common with the Energizer Bunny?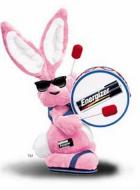 Mike Morrissey, from the Saturn Communications Team equated Saturns to the popular advertising character, the Energizer Bunny, in a blog written on ImSaturn.com yesterday. Why you may ask? Saturn discovered through a research study conducted by R.L. Polk that 83% of all of the Saturns ever sold in the United States are still actively registered. You may remember that nearly two weeks ago Saturn celebrated the sale of their 4 millionth vehicle in Traverse City, Michigan: a black three door Astra. Of those 4 million vehicles, 3.3 million of them are still in use. According to Mike, "There have always been plenty of reasons to by a Saturn – value, fuel economy, safety and the great retail experience, just to name a few. That kind of durability – 8 out of 10 still going strong – may be the best testament yet to the wisdom of buying a Saturn." What better way to conclude this post than by chanting the cheer that Saturn retailers has chanted to so many owners: "I say, I say, Saturn." Congratulations, Saturn!
Source: ImSaturn
Random Article from the SaturnFans.com Archives
Tags:
The Saturn Vue, completely redesigned for 2008, makes history just one model year into its launch when the 2009 Saturn Vue 2 Mode Hybrid goes into production in late 2008. It is expected to be the world's most fuel-efficient V-6 SUV, providing an estimated 50-percent increase in fuel economy compared to the non-hybrid Vue XR.