What Does Saturn Have in Common with the Energizer Bunny?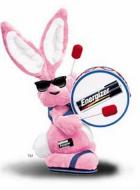 Mike Morrissey, from the Saturn Communications Team equated Saturns to the popular advertising character, the Energizer Bunny, in a blog written on ImSaturn.com yesterday. Why you may ask? Saturn discovered through a research study conducted by R.L. Polk that 83% of all of the Saturns ever sold in the United States are still actively registered. You may remember that nearly two weeks ago Saturn celebrated the sale of their 4 millionth vehicle in Traverse City, Michigan: a black three door Astra. Of those 4 million vehicles, 3.3 million of them are still in use. According to Mike, "There have always been plenty of reasons to by a Saturn – value, fuel economy, safety and the great retail experience, just to name a few. That kind of durability – 8 out of 10 still going strong – may be the best testament yet to the wisdom of buying a Saturn." What better way to conclude this post than by chanting the cheer that Saturn retailers has chanted to so many owners: "I say, I say, Saturn." Congratulations, Saturn!
Source: ImSaturn
Random Article from the SaturnFans.com Archives
Tags:
Next month the Automobile Journalists Association of Canada (AJAC) will crown the winner of the 2008 Canadian Car of the Year award. Among cars in contention for the honor is the '08 Saturn Astra.