What Does Saturn Have in Common with the Energizer Bunny?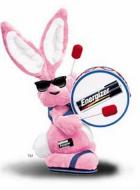 Mike Morrissey, from the Saturn Communications Team equated Saturns to the popular advertising character, the Energizer Bunny, in a blog written on ImSaturn.com yesterday. Why you may ask? Saturn discovered through a research study conducted by R.L. Polk that 83% of all of the Saturns ever sold in the United States are still actively registered. You may remember that nearly two weeks ago Saturn celebrated the sale of their 4 millionth vehicle in Traverse City, Michigan: a black three door Astra. Of those 4 million vehicles, 3.3 million of them are still in use. According to Mike, "There have always been plenty of reasons to by a Saturn – value, fuel economy, safety and the great retail experience, just to name a few. That kind of durability – 8 out of 10 still going strong – may be the best testament yet to the wisdom of buying a Saturn." What better way to conclude this post than by chanting the cheer that Saturn retailers has chanted to so many owners: "I say, I say, Saturn." Congratulations, Saturn!
Source: ImSaturn
Random Article from the SaturnFans.com Archives
Tags:
As noted in GM's viability plan presented on February 17, 2009, GM announced it would review the potential spin-off or sale of Saturn and if those options did not prove viable Saturn's operations would be wound down over time. Over approximately the past 60 days, a sub-committee of Saturn retailers has been studying the feasibility of the sale or spin-off options, and has identified some parties that are potentially interested in a purchase or spin-off of Saturn. We are advised that one of the interested parties is Black Oak Partners. We are not at liberty to discuss any other interested party. With respect to what the eventual outcome concerning Saturn might be with Black Oak or any other interested party, it is simply premature at this time to speculate on what any eventual outcome may be.