Vue to Feature Advanced Hybrid System
General Motors' advanced hybrid system, set to debut in the Saturn Vue in late 2005, combines the power of a four-cylinder engine with the excellent torque and efficiency of twin electric motors.
Drivers can expect fuel economy gains of up to 50 percent, along with improved 0-60 mph and 50-70 mph performance, thanks to the hybrid-propulsion system and the most advanced components and control electronics. In addition, the system will carry a super low emissions vehicle (SULEV) rating.
The system, when linked with a GM 2.0L Ecotec dual-overhead cam engine, produces 125 horsepower from the gasoline motor and another 50 horsepower from the two 20-kw electric motors. It is designed for transverse, front-wheel-drive vehicle applications.
How it Works
The GM advanced hybrid system runs on electricity, using the two electric motors to propel the vehicle at low speeds, when the efficiency of gasoline motors is lowest. However, when driving at higher speeds, or when carrying heavy loads, power comes from the proven internal combustion engine.
The two 25-horsepower electric motors have the following seven functions which result in a notable improvement in fuel economy and vehicle performance. The motors:
Start the engine
Propel the vehicle at low speeds
Charge the battery when the engine is running
Charge the battery during braking, storing power in the system's 300-volt battery pack
Synchronize gear shifts
Operate the electric-powered reverse gear
Drive the air conditioner compressor, even when the engine is off
The versatility of GM's advanced hybrid system, including the ability to package it in a variety of engine displacement configurations, makes it ideal for a wide range of future vehicle applications, including front-wheel-drive passenger cars and SUVs.
Source: General Motors
Random Article from the SaturnFans.com Archives
Tags: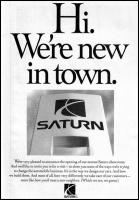 Back in the early 1990's Saturn was still building out its retail network and when new stores opened, they often ran advertisements like the one above in local area newspapers. This particular ad was printed inside the pages of a newspaper in New Jersey on June 25, 1993 to announce the opening of Saturn of Toms River.