Saturn Plugs in with Pre-Production Vue Hybrid, Flextreme Concept at DC Auto Show
Tags: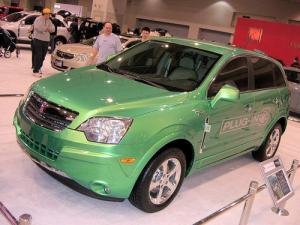 This year's DC auto show was different than in the past. Instead of displaying year-old concept cars and last year's pre-production vehicles, many automakers diverted their newest cars – which were en route to Chicago for their big show later this week – to what had been a second-tier auto show in years past. But not this year. The DC show was thrust into the spotlight after the Big 3's request for financial aid from the Federal government. As a result, General Motors sent its latest, greatest, and significantly, its greenest cars and trucks, to show that its vehicles are not out of touch with the marketplace. The evidence was compelling. GM's 2010 Buick LaCrosse, Chevrolet Volt and Cruze, as well as upcoming Cadillac SRX were all particularly impressive.
As is the case at any auto show, my wife and I spent a lot of time hanging around the Saturn display today. It was crowded with visitors checking out Saturn's new models. Folks weren't talking about the pending GM restructuring, or what the future holds for GM's import-fighting brand. Instead, they were talking about Saturn's cars. The color-shifting green Vue Plug-In Hybrid seemed to be a hit ("why don't they offer a color like that on all their cars?," asked one passerby), as was the bright-blue 2-Mode Hybrid Vue, and the Flextreme concept ("this looks even better than the Chevy Volt," said someone else). When we were in the area, you often had to wait in line to sit in any Saturn on display. While it made it more difficult to take lots of pictures, I was happy to see so many folks swarming around the cars.
With its charging port exposed, the pre-production Saturn Vue plug-in hybrid situated next to the main isle, drew lots of attention. This was the first time I had seen one in person. Those who didn't notice the port at first were drawn in by the Vue's unique, very green color. According to a placard next to the plug-in Vue, it uses a modified version of GM's two-mode hybrid system and plug-in technology, a lithium-ion battery pack, highly efficient electronics and powerful electric motors to achieve significant increases in fuel economy – potentially double the fuel efficiency of any current SUV in production. The plug-in Vue is capable of traveling for for than 10 miles at low speed under electric-only propulsion. The sign read that production is expected to begin in 2011, but insiders say its been bumped up to '10.
Random Article from the SaturnFans.com Archives
Tags:
Mark Phelan from the Detroit Free Press: After a 2009 auto show plagued by automaker defections and overshadowed by economic despair, 2010 looks brighter for the North American International Auto Show in Detroit. At the least, the number of automakers exhibiting should be about the same as in 2009, organizers said.