Saturn Owner Appreciation Cash Offer: $1500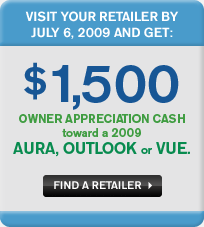 Saturn is offering current owners 1500 more reasons to stay in the family. "These days, it seems good news is hard to come by, particularly in the car industry," said an email received by SaturnFans.com earlier today. Current Saturn owners can receive $1,500 in Owner Appreciation Cash toward a 2009 Aura, Outlook, or Vue. Owner Appreciation Cash is also good for $750 toward a 2008 Astra, $1,000 toward a 2009 Sky, and can be combined with other cash offers. "Consider it a thank-you for sticking with us." This offer expires July 6, 2009. Visit your local retailer for all the details.
Random Article from the SaturnFans.com Archives
Last week General Motors announced Buick would begin selling a new compact crossover in 2010. Later in 2011, the vehicle will feature the company's state-of-the-art plug-in hybrid technology. The Buick will be launched with two of fuel-efficient direct-injected gasoline engines: Ecotec 2.4L direct-injected four-cylinder engine with an optional 3.0L direct-injected V6. GM says the 2.4L will deliver 30 miles per gallon or more on the highway, a modest statement since the redesigned and just released 2010 Chevrolet Equinox with the same powertrain earned a 32 mpg rating by the EPA.