Saturn Owner Appreciation Cash Offer: $1500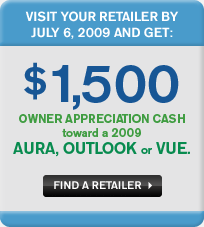 Saturn is offering current owners 1500 more reasons to stay in the family. "These days, it seems good news is hard to come by, particularly in the car industry," said an email received by SaturnFans.com earlier today. Current Saturn owners can receive $1,500 in Owner Appreciation Cash toward a 2009 Aura, Outlook, or Vue. Owner Appreciation Cash is also good for $750 toward a 2008 Astra, $1,000 toward a 2009 Sky, and can be combined with other cash offers. "Consider it a thank-you for sticking with us." This offer expires July 6, 2009. Visit your local retailer for all the details.
Random Article from the SaturnFans.com Archives
Tags:
As noted in GM's viability plan presented on February 17, 2009, GM announced it would review the potential spin-off or sale of Saturn and if those options did not prove viable Saturn's operations would be wound down over time. Over approximately the past 60 days, a sub-committee of Saturn retailers has been studying the feasibility of the sale or spin-off options, and has identified some parties that are potentially interested in a purchase or spin-off of Saturn. We are advised that one of the interested parties is Black Oak Partners. We are not at liberty to discuss any other interested party. With respect to what the eventual outcome concerning Saturn might be with Black Oak or any other interested party, it is simply premature at this time to speculate on what any eventual outcome may be.