Saturn Owner Appreciation Cash Offer: $1500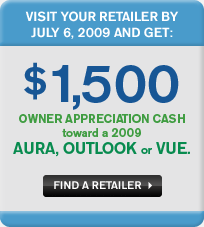 Saturn is offering current owners 1500 more reasons to stay in the family. "These days, it seems good news is hard to come by, particularly in the car industry," said an email received by SaturnFans.com earlier today. Current Saturn owners can receive $1,500 in Owner Appreciation Cash toward a 2009 Aura, Outlook, or Vue. Owner Appreciation Cash is also good for $750 toward a 2008 Astra, $1,000 toward a 2009 Sky, and can be combined with other cash offers. "Consider it a thank-you for sticking with us." This offer expires July 6, 2009. Visit your local retailer for all the details.
Random Article from the SaturnFans.com Archives
Tags:
Many years ago, my wife and I started doing camping using the minimal equipment: a tent, a Coleman LP stove and a cooler. We were young and soon discovered that even if this kind of camping can be fun for a few days, living in such minimalist gears during two or three weeks is not the same story. When you want to do "serious" camping, you need serious equipment. And a RV is almost mandatory! But what kind of RV can you afford when you don't want to change your car for a large F-350 pick-up truck?