Saturn Employee Goes Behind the Scenes at "PR"
Tags: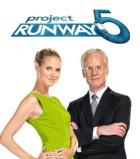 Last week Sara Lacey from the Cars.com Mother Proof blog put a well-deserved spotlight on Saturn's Lisa Gilpin and all the work she does each week behind the scenes on set of Bravo's Project Runway. Lisa had her work cut out for her two weeks ago in an episode entitled "Fashion the Drives You," where the show's designers looked through Vue Hybrids stocked with Saturn parts to create clothes. Lisa wrote all about the experience on her blog on ImSaturn. You can also see the outfits that the PR contestants created in Lisa's ImSaturn gallery.
If you've ever wanted to peek behind the scenes of Bravo's "Project Runway," Lisa Gilpin, a member of the Saturn advertising team that put together the show's Fashion That Drives You challenge, is telling all in her ImSaturn blog. It's a really fascinating post about the design challenge and Lisa's own experiences from the shoot. She shares everything, from the difficulties of getting those Saturn Vue Hybrids onto the parking garage's roof to the designers' reactions to the challenge. There's even lots of info on the runway presentation portion of the popular TV show. How amazing is that? I mean, people tell me all the time that they think my job is cool, but I think Lisa's job sounds pretty awesome. But maybe that's just because I heart Tim Gunn...
Random Article from the SaturnFans.com Archives
SaturnFans.com has learned from several reliable sources that Saturn will discontinue its Vehicle Exchange Program (VEP) on December 31, 2008 in an effort to cut costs and help create a more profitable business model for the company in the future. The program will reportedly continue to be offered on new Saturn vehicles sold and delivered through the end of the month.